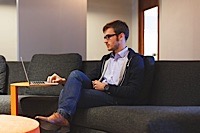 Kansas has always been a state of strong views, especially when it comes to politics. One only has to visit the Kansas statehouse and view the famous John Steuart Currey painting Tragic Prelude, depicting a fiery-haired John Brown, to get an idea of the passion that lies beneath the surface of Kansas politics.
While Kansas has long been a "red" state, the governor's office has see-sawed between the parties and for nearly 50 years state government has been a balanced coalition between moderates in both the Democrat and Republican parties.
In the mid-1980s, in fact, a non-partisan coalition of government, university and business leaders came together in the midst of economic crisis to form a new vision for Kansas. With the three main industries in the state—agriculture, oil and gas and aviation—faltering simultaneously, the coalition sought to diversify the state's economy by focusing on commercializing new technologies. Bioscience was a key component of that strategy.
Download a PDF of this article
To read the full, original article click on this link: Thinking Bigger Business Media - Bumps on the BioInnovation Highway
Author: Jeff Blackwood