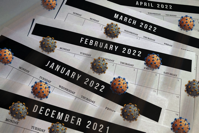 It's a paradoxical time in the arc of the Covid-19 pandemic.
On the one hand, record numbers of people, including on college campuses, are being infected. Hospitals are once again overwhelmed. Death counts, too, are rising nationwide.
On the other hand, many colleges have highly vaccinated populations. The risk that those people will become severely ill with Covid is lower now, broadly speaking, than it was before the advent of vaccines.
Image: ILLUSTRATION BY THE CHRONICLE