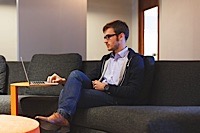 For all entrepreneurs, starting a business is the route to "life, liberty, and the pursuit of happiness," no matter how risky. It's the American dream that has been the goal of people in this country for over 230 years. If you are here in the U.S., I hope you are all able to take some time off this holiday weekend, to contemplate what you do, and why you do it.
According to an article and poll by Startups.co.uk, having the independence to make your own decisions is considered the key benefit of being an entrepreneur. Nearly 90% of respondents said decision-making independence was very important, closely followed by more flexibility for a better work/life balance. Job creation and innovation are the results, not the drivers.
To read the full, original article click on this link: Startup Professionals Musings: Independence is the Real Driver for Entrepreneurs
Author:MartinZwilling
Receive our DAILY Free Updates
Thursday, 07 April 2016 00:00
Friday, 22 April 2016 00:00
Friday, 08 April 2016 00:00
Wednesday, 06 April 2016 00:00
Saturday, 23 April 2016 00:00
Read more...