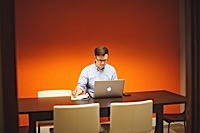 "A chronic shortage of engineering students threatens America's role as the world's leading innovator and continues to impede our nation's fragile economic recovery," wrote Paul Otellini, a member of the President's Council on Jobs and Competitiveness, in a recent opinion piece for The Washington Post. The council is holding a series of meetings to find ways to fix a perceived national problem: an engineering shortage. Otellini and the council claim that such a shortage seriously threatens America's ability to create jobs, and that the U.S. risks losing its innovation edge to China and India, which are producing a million engineers per year — 12 times as many as the United States. The council hopes to increase U.S. engineering output by 10,000 engineers per year in an effort to deal with this crisis.
The logic behind this argument is flawed in many ways. First let's tackle the myth of the Rising East's mastermind engineers. China and India's engineering graduation numbers have been used for the past decade to justify arguments that the United States is in trouble. My research team at Duke University dispelled common myths about China's and India's engineering-education advantages in December 2005. The graduation statistics most commonly touted then were: China graduates 600,000 per year, India, 350,000, and the U.S., 70,000. We found that, in 2004, when comparing apples with apples, the U.S. had graduated more engineers (roughly 140,000) than India had (roughly 120,000).
To read the full, original article click on this link: President Obama, there is no engineer shortage - The Washington Post
Author:Vivek Wadhwa
Receive our DAILY Free Updates
Thursday, 07 April 2016 00:00
Monday, 04 April 2016 00:00
Friday, 08 April 2016 00:00
Wednesday, 06 April 2016 00:00
Saturday, 09 April 2016 00:00
Read more...