innovation DAILY
Here we highlight selected innovation related articles from around the world on a daily basis. These articles related to innovation and funding for innovative companies, and best practices for innovation based economic development.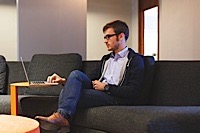 The Angel Capital Association (ACA) today launched a campaign to protect startups from a devastating loss of angel capital if the Securities and Exchange Commission (SEC) increases the financial qualifications for accredited investors. The "Protect Angel Funding" initiative is a call to action to the startup ecosystem—from angel investors to economic development organizations and entrepreneurs – to urge regulators to preserve the definition of who qualifies as an accredited angel investor. Protecting this important investment class is critical to preserving the economic fuel it provides to startups and job creation. If changes proposed by "investor protection" organizations are enacted by the SEC, nearly 60 percent of angel investors would be eliminated.
The Dodd-Frank Wall Street Reform and Consumer Protection Act of 2010 requires the SEC to review the definition of an accredited investor in 2014 to determine whether it should be modified "for the protection of investors, in the public interest and in light of the economy." Currently, an individual accredited investor is defined as someone with $1 million in net worth excluding the value of a primary residence, or annual income of $200,000. At issue is whether these financial thresholds should be arbitrarily raised based on inflation.
Receive our DAILY Free Updates
Wednesday, 05 October 2016 00:00
Wednesday, 12 October 2016 00:00
Saturday, 01 October 2016 00:00
Thursday, 06 October 2016 00:00
Tuesday, 11 October 2016 00:00
Read more...