innovation DAILY
Here we highlight selected innovation related articles from around the world on a daily basis. These articles related to innovation and funding for innovative companies, and best practices for innovation based economic development.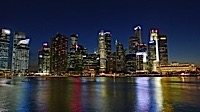 A recent study from the University of Illinois at Chicago has showed that drinking beer may make people smarter—especially when it comes to creative problem solving.
Now, we at Clusterstock don't support getting completely wasted on the job, especially when we've heard of the catastrophic events that happen when finance and too much alcohol mix. But the fact that alcohol may help with the creative aspects of your brain is still a fun little fact you and colleagues can revel in during happy hour drinks. So maybe one or two wouldn't hurt...
Receive our DAILY Free Updates
Monday, 07 July 2014 00:00
Friday, 11 July 2014 00:00
Saturday, 28 June 2014 00:00
Wednesday, 09 July 2014 00:00
Monday, 30 June 2014 00:00
Read more...