innovation DAILY
Here we highlight selected innovation related articles from around the world on a daily basis. These articles related to innovation and funding for innovative companies, and best practices for innovation based economic development.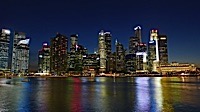 Just five years ago, when I was looking to build a tech company with venture capital in New York, finding early stage or seed capital was a daunting prospect. NY just wasn't an easy place to start a tech company. But last night, hundreds of developers, entrepreneurs, and funders stood side by side as Mayor Michael Bloomberg handed out awards to this years BigApps3.0 winners. Wow, have times changes.
Today the New York Tech scene is exploding. It's alive with talent, innovation, passion, and capital.
How did that happen? And what can Washington learn from New York's Tech renaissance that could help fuel and expand the fledgling economic recovery that now seems to be blooming?
Receive our DAILY Free Updates
Monday, 07 July 2014 00:00
Friday, 11 July 2014 00:00
Saturday, 28 June 2014 00:00
Wednesday, 09 July 2014 00:00
Monday, 30 June 2014 00:00
Read more...