innovation DAILY
Here we highlight selected innovation related articles from around the world on a daily basis. These articles related to innovation and funding for innovative companies, and best practices for innovation based economic development.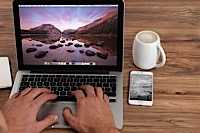 The focus of my life in recent months has been living mindfully, and while I don't always remember to do that, I have learned a few things worth sharing.
The first is a mindful life is worth the effort. It's a life where we awaken from the dream state we're most often submerged in--the state of having your mind anywhere but the present moment, locked in thoughts about what you're going to do later, about something someone else said, about something you're stressing about or angry about. The state of mind where we're lost in our smartphones and social media.
Image Courtesy of FrameAngel / FreeDigitalPhotos.net
Receive our DAILY Free Updates
Friday, 13 May 2016 00:00
Monday, 09 May 2016 00:00
Thursday, 19 May 2016 00:00
Friday, 29 April 2016 00:00
Thursday, 28 April 2016 00:00
Read more...