innovation DAILY
Here we highlight selected innovation related articles from around the world on a daily basis. These articles related to innovation and funding for innovative companies, and best practices for innovation based economic development.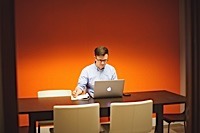 This post appeared on the Fortune Magazine Site here and was adapted from my new book, The Business Model Innovation Factory.
Collaborators are everywhere. You will find them in the gray areas between silos. Just look up from your current business model. Seek out difference and gather often across boundaries, disciplines, and sectors. Be open and be curious. Beware of random collisions with unusual suspects. Unless, of course, if you want to learn something new. In that case seek out innovators from across every imaginable silo and listen, really listen, to their stories. New ideas, perspectives, and the value creating opportunities are in the gray areas between the unusual suspects. And yet we spend most of our time with the usual suspects in our respective silos. We need to get out of our silos more.
It is human nature to surround ourselves with people who are exactly like us. We connect and spend time with people who share a common world-view, look the same, enjoy the same activities, and speak the same language. We join clubs to be with others like us. The club most worth belonging to is the non-club club. The most valuable tribe is a tribe of unusual suspects who can challenge your world-view, expose you to new ideas, and teach you something new. A tribe of unusual suspects can change the world if it is connected in purposeful ways.
Receive our DAILY Free Updates
Wednesday, 06 August 2014 00:00
Saturday, 02 August 2014 00:00
Thursday, 14 August 2014 00:00
Tuesday, 12 August 2014 00:00
Thursday, 07 August 2014 00:00
Read more...