innovation DAILY
Here we highlight selected innovation related articles from around the world on a daily basis. These articles related to innovation and funding for innovative companies, and best practices for innovation based economic development.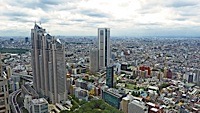 It's almost too adorable to be true: the immortally comic Woody Allen reaches out to the comically mortal Louis C.K. Allen wants C.K. in his next movie. So as C.K. tells the New York Times, he goes into Allen's office to read for Blue Jasmine.
The character he read for was a total jerk--spousal abuser, the works--and he knew he wasn't right for the part. C.K. says it was "very emotional" for him; he'd been waiting for that email his whole life. Then, two weeks later, Allen's assistant brought over a package: pages from the script and a letter from him. This is what it said:
Receive our DAILY Free Updates
Monday, 06 July 2015 00:00
Tuesday, 07 July 2015 00:00
Tuesday, 07 July 2015 00:00
Tuesday, 07 July 2015 00:00
Thursday, 16 July 2015 00:00
Read more...