innovation DAILY
Here we highlight selected innovation related articles from around the world on a daily basis. These articles related to innovation and funding for innovative companies, and best practices for innovation based economic development.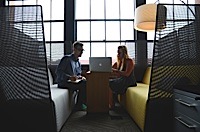 Strategy without execution is as worthless as execution without strategy.
Getting both right is a challenging task, but one that Bill Gates, Andy Grove, and Steve Jobs all accomplished to an impressive degree. All three had weaknesses as leaders, and they all benefited greatly from the help and support of their executive teams and other employees. Nonetheless, we cannot deny the strength of their track records at Microsoft, Intel, and Apple. Their success leads us to ask: What did these three CEOs do to drive performance and organizational effectiveness? Why were they able to deliver more powerful results than their rivals and successors, despite their well-known flaws?
Image: http://www.fastcompany.com/ 
Receive our DAILY Free Updates
Thursday, 26 March 2015 00:00
Thursday, 19 March 2015 00:00
Thursday, 19 March 2015 00:00
Thursday, 26 March 2015 00:00
Friday, 03 April 2015 00:00
Read more...