innovation DAILY
Here we highlight selected innovation related articles from around the world on a daily basis. These articles related to innovation and funding for innovative companies, and best practices for innovation based economic development.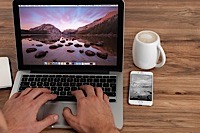 You know that taking frequent breaks is good for your productivity, focus, and creativity, but you just never seem to get around to it.
You feel stressed and exhausted when you hammer away at your keyboard all day, and the evidence is everywhere. A study earlier this year from the University of Toronto on lunch break patterns of office workers revealed the absence of a proper lunch break can actually lower productivity. John Trougakos, associate professor of Organizational Behavior & HR Management, who coauthored the study, argues our brains have a limited pool of psychological energy.
Image: Free Digital Photos
Receive our DAILY Free Updates
Wednesday, 27 August 2014 00:00
Thursday, 11 September 2014 00:00
Saturday, 06 September 2014 00:00
Saturday, 06 September 2014 00:00
Saturday, 23 August 2014 00:00
Read more...