innovation DAILY
Here we highlight selected innovation related articles from around the world on a daily basis. These articles related to innovation and funding for innovative companies, and best practices for innovation based economic development.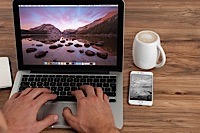 In March, two years ago, I walked out of Starbucks, with the very first check from an accredited investor. It was only $40,000, but it was enough to prove myself that I could actually make a decent living out of my startup. I had quit my full-time job that day after bootstrapping my startup for months with nothing, but the passion to turn my knitting website into one of America's largest community and marketplace. You can say I have never looked back since. Although I have never studied entrepreneurship or finance, I could manage to enjoy the exhilarating entrepreneurial roller coaster ride because of my very, very thick skin. My friend, Scott Wilhelm has a different story to tell. He has netted little revenue for his professional sports mobile app and faced at least a hundred rejections
Image: https://www.industryleadersmagazine.com
Receive our DAILY Free Updates
Thursday, 14 July 2016 00:00
Thursday, 07 July 2016 00:00
Tuesday, 05 July 2016 00:00
Tuesday, 05 July 2016 00:00
Tuesday, 05 July 2016 00:00
Read more...