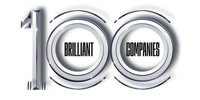 What makes a company brilliant? There's no single answer, so we started with a question: "What in the past year made us say, 'That's brilliant!'?"
To compile this, the 2018 edition of our 100 Brilliant Company list, we explored boundary-pushing entrepreneurship -- from Kevin Hart challenging comedy's pecking order to big risks, fresh employee perks and meaningful social missions.
This year we broke down our 100 Brilliant Companies into various categories, including marketing, leaders, services and more.
Image: Image credit: Burn & Broad