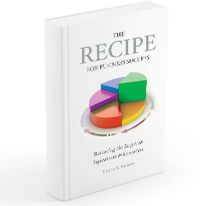 Curtis R. Nelson Shares 30 Years of Business Experience—Simplifying the Keys to Growing Any Business, Complete with Personalized Score Card
CEDAR RAPIDS, IOWA—NOVEMBER 18, 2009—Entrepreneurs to seasoned business executives are the target for Curtis R. Nelson's new book, The Recipe for Business Success. The book, now available online at www.recipeforbusinesssuccess.com, is a compilation of decades of proven business practice and theory into one, easy-to-follow "Recipe." Filled with real-world stories that drive home the learning experience, The Recipe is designed to be a strategic analysis tool, applicable to the start-up or the Fortune 500® board room.
"Most business books focus on a single aspect of business. In my book, I focus on the importance of all ingredients and execution requirements in balance, based on my 30-plus years of starting and growing over 45 businesses," said author, Curtis R. Nelson. "My book is guaranteed to invoke strategic thinking for any business leader and help them identify opportunities for improvement and growth," Nelson added.
In The Recipe, readers will explore what it takes to validate their "Strategic Fit" in the market, and how to write usable business / strategic plans around that "Fit" that will drive success. Readers will also learn how to assemble a balanced and talented team, understand the definition and value of a true business leader, and identify the resources critical to business success. Unlike typical business books, readers will create a "Report Card" on their business "Recipe," and walk away with actionable opportunities to improve.
The book retails for $25.00 in hardcover or $12.95 for a downloadable PDF. Both are currently available for purchase online at www.recipeforbusinesssuccess.com.
About the Author, Curtis R. Nelson With over 30 years of successful national and international business creation and leadership experience, Curtis Nelson has directed the development and successful launch of over 45 new businesses and more than 300 new products for the communications, IT, military, transportation, medical, health, food, and gardening industries. Nelson is a seasoned entrepreneur, investor, consultant and three-time veteran of Inc. Magazine's 500 Fastest-Growing Private Companies® list.
"Curt Nelson is a successful businessman who practices the principles he preaches every day, whether it is in his own business pursuits or the hundreds of entrepreneurs he assists in accelerating their new or existing businesses. Each business will find the Report Card they develop for their business, very helpful in implementing strategies to improve performance. The Recipe For Business Success will assist each reader in filling their appetite for new knowledge needed to achieve their personal and business goals." - Rich Bendis
For more information contact:
Curtis Nelson, Author
CRN, LLC
3607 timberline Drive NE
Cedar Rapids, IA 52402
319-329-7364
This email address is being protected from spambots. You need JavaScript enabled to view it.