OBAMA ADMINISTRATION INNOVATIVE SMALL BUSINESS JOB STIMULUS FINANCING PLAN AND PROGRAM RECOMMENDATIONS
As Submitted by Richard A. Bendis, President, Innovation America and Vice Chair NASVF
---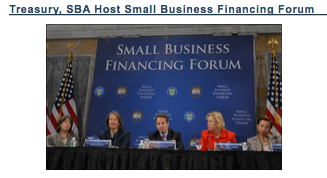 The Small Business Financing Forum marked another step in the Obama Administration's commitment to ensuring small businesses can play a crucial role in leading job growth and recovery. As they search for the best ideas and strategies to bring to the President, Treasury Secretary Tim Geithner and Small Business Administrator Karen Mills will build on the measures the Obama Administration has already taken to help small businesses expand through increased access to credit and new tax cuts as part of the American Recovery and Reinvestment Act.
---








To: Small Business Forum (Request for Recommendations from Forum Participants including Richard Bendis)
On behalf of the Department of the Treasury and the Small Business Administration, I want to thank you for your participation in Wednesday's Small Business Financing Forum.
Secretary Geithner and Administrator Mills convened this meeting at the President's request in order to explore a wide range of policy ideas for expanding access to credit for small businesses to support growth and job creation. As Secretary Geithner and Administrator Mills mentioned, Treasury and SBA are preparing a report of the conference that will be sent to the President in advance of the Forum on Jobs and Economic Growth on December 3 and will be posted on our websites.
In this report, we hope to list – without passing judgment – the different policy ideas that were mentioned on the panels or during the breakout sessions. As we compile these ideas, we wanted to give you the opportunity to supplement the record by (1) clarifying or expanding an idea you expressed at the conference, either during a breakout session or a panel, (2) describing an idea that you did not get a chance to present that you wanted to pass along, or (3) providing any data or information that might be helpful in further considering an idea you presented. In order to include these ideas in our report in advance of the Forum on Jobs and Economic Growth, we ask that you submit any ideas to This email address is being protected from spambots. You need JavaScript enabled to view it. no later than 5 p.m. on Tuesday, November 24.
Thank you once again for your participation at the Small Business Financing Forum, and we look forward to continuing to explore sound ideas and policies with you.
Sincerely,
Gene Sperling
Counselor to the Secretary
Department of the Treasury
---









November 23, 2009, United States Treasury, Washington D.C.
OBAMA ADMINISTRATION INNOVATIVE SMALL BUSINESS JOB STIMULUS FINANCING PLAN AND PROGRAM RECOMMENDATIONS:
Submitted by Richard A. Bendis, President, Innovation America and Vice Chair NASVF
1) EARLY STAGE INNOVATIVE JOBS STIMULUS FUND OF FUNDS (FOF)
As proposed to transition team in December 2008 (Karen Mills present)
Designed to address the growing "Valley of Death" early stage-funding gap, whereby $500K to $2M is not readily available to stimulate innovative company growth. This stage is at a critical point of development and growth whereby a significant number of potential new, high-wage, high growth jobs would be created.
Some theories as to why there is a need for Government intervention in the early stage investment space were; Appetite for risk has decreased by angels and early stage investors as they await returns on current portfolio's; greater disparity on distribution of the have and have not regions of the country (Fly over States); Budget deficits in 44 States reducing the amount of TBED investment capital and lack of leverage and collaboration of Public and Private programs.
Originally proposed $1 Billion FOF, but OMB suggested it be $2 Billion
Stimulus Funds or returned Tarp Funds to provide investment to the most experienced early stage fund managers in America. A private/public partnership would work with the designated Federal Agency to select the FOF recipients.
Investment size would be $5 to 15M per fund and would be MATCHED with a minimum of one to one, by Local, State, Private, Foundation, Angel or other Private Equity sources
Federal agency would NOT be involved in any company investment decisions, as they would ALL be made by the local experienced Fund Managers.
There would also be a Technical Assistance component similar to the New Markets (NMVC) program which would provide grants to fund managers, portfolio companies and entrepreneurs to provide assistance with market research, business plan development, executive search and investment due diligence. TA would also be matched one to one.
Stage of investee company would be equivalent to at least a SBIR Phase III commercialization stage company that needs capital to go to market or expand and would create new knowledge economy, high wage jobs.
Federal Government would participate in the Fund returns to create some sustainability with this new funding mechanism and have a Double/Bottom line objective to create jobs and returns on capital
Management fee and carried interest structure for the Fund managers to be designed in the best interest of all parties.
Existing early stage investment programs in Pennsylvania and Utah, for example, have created one new job for every $10,000 to $29,000 invested compared to other much higher Stimulus Fund Cost per Job Creation or Retained Metrics.
Small Firms of fewer than 20 employees have been responsible for most of the net, new job growth in America, and innovative firms have a much higher growth rate.
2) REAUTHORITIZATION OF THE SBIR PROGRAM
Make permanent or extend for a minimum of 6 to 8 years
Increase set aside rate from 2.5% to between 3.0 and 3.5%
Develop an aggressive Phase III Commercialization program to accelerate the rate of innovative high growth, innovative small business.
Don't fix what isn't broken, so add value to existing program, as you don't have to re-invent the wheel.
3) TECHNOLOGY INNOVATION PROGRAM (TIP)
New Department of Commerce/NIST program recently created, but is severely under-funded.
Should have a minimum of $100,000,000 in new capital to invest annually
No changes needed to program
4) SMALL BUSINESS INVESTMENT COMPANY PROGRAM (SBIC)
Needs to be reauthorized Defer to National Association of Small Business Investment Companies (NASBIC) and their recommendations
5) NEW NATIONAL ANGEL CAPITAL TAX CREDIT PROGRAM
Angel investors invest as much as Venture Capitalists do annually (each is approximately $20B per year) but invest in many thousands of deals in smaller $ amounts versus VC's that invest an average of $8.3 Million per deal
Approximately 29 States have created accredited investor/angel tax credit programs to incentivize high net worth individuals to invest in early stage, higher risk ventures or funds.
There is a need to re invigorate the angel investor community after the economic challenges of 2008 as they invested 28% less last year.
Create a National Accredited Investor tax credit program to stimulate new and existing angels to invest more in innovative high growth business.
Make available a 25% Federal Tax credit that would be available only in those states that have or are willing to create an equivalent or greater program.
Program administration would transfer to those State entities that are managing existing or create new programs and
Federal agency would only have a monitoring role.
Would incentivize states to create additional incentives and encourage new investors to become engaged.
6) CREATION OF A FEDERAL R&D TAX CREDIT PROGRAM WITH TRANSFERRABILITY OF THE EARNED TAX CREDITS
Small businesses do an extensive amount of Research and Development and in some states receive State tax credits for their R&D investments. Since most innovative high growth businesses are not profitable there is not any financial benefit of a tax credit for several years. Some States have addressed this by allowing the Small business to transfer the State Tax credit to a profitable entity that would be able to use the credit and pay the small business for the credit at some discounted current value to generate badly needed working capital to grow the business without further dilution.
There is an opportunity for the Federal Government to develop a similar program to transfer earned Federal tax credits that would generate additional capital for small business.
7) CREATE THE FIRST ELECTRONIC (WIKI) INNOVATION AND ENTREPRENEURSHIP CLEARINGHOUSE
There is no central database of all the Federal programs that support, technology commercialization and investment, entrepreneurship, Federal and State partnership programs and other small business support programs within agencies or collectively for all agencies. It is very difficult for entrepreneurs to navigate the Federal system and there is no go-to resource or agency to assist innovative SME's.
Create the first electronic innovation and entrepreneurship database that not only includes all Federal Agency programs including Federal Labs, but also State, NGO, Angel/Seed / VC investment programs geared to Innovation Based
Economic Development.
Federal agency to be determined to work with a private/public partnership Innovation Intermediary to develop and support.
8) GAP ANALYSIS OF ALL FEDERAL FUNDING PROGRAMS GEARED TO SMALL AND LARGE, INNOVATIVE AND TRADITIONAL BUSINESSES.
The Federal government has a broad portfolio of funding mechanisms and programs that have been created over several decades to support the growth of America's economy. Many of these are still relevant today, but several are outdated based on our Global economy.
As a start, first perform a comprehensive analysis of all existing technology and innovation programs within all Federal Agencies.
Map these programs through the various stages of the evolution of a business life cycle starting with Concept all the way through maturity and Re-Invention.
Determine which programs still work and those that are broken, and also analyze where the gaps in the life cycle that exist where the Federal Government could be a primary funder or a catalytic funder to stimulate States or the private sector to fill the gaps.
Study best practices at the State level as well as other Countries best practices to determine what America needs to do to have the most robust Innovation Ecosystem in the world.
Make long term recommendations as to what America needs to re establish itself as the Global Innovation leader by having the most comprehensive portfolio of Innovation support programs at the Federal, State and Private sector levels.