Welcome to the first Intelligent Communities Summit!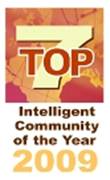 The Summit provides an exceptional opportunity for CEOs of corporations, mayors and senior municipal government officials, business leaders, economic developers, educators and interested individuals to meet and hear international leading-edge community, academics and private sector leaders who will share best practices and engage participants to brainstorm on the next steps in leveraging technology for community development. These next steps will be designed to help businesses and communities weather economic storms, prosper and improve quality of life.

Over the past 20 years, Moncton transformed itself from a blue-collar town with an uncertain future to one of the most diversified and fastest growing metropolitan centers in Canada. The success of its transformation is entirely due to its focus on the Broadband Economy, and how all stakeholders have collaborated to leverage technology for community development.

The hard work of the past two decades was recognized earlier this year when the Intelligent Community Forum in New York named Moncton one of the 2009 Top Seven Intelligent Communities in the world. In fact, the Canadian Province of New Brunswick has been identified by the Intelligent Community Forum as a best practice model. This year, two New Brunswick cities, Moncton and Fredericton, are among the 2009 Top Seven Intelligent Communities.