Congressional Republicans released a 48-page manifesto last week called "A Pledge to America," outlining a "new" governing agenda for job creation and economic growth. Unfortunately, nowhere amid the document's 48 pages of inspirational quotes, photographs, and calls for tax cuts does the document address the most important drivers of long-term economic prosperity and national competitiveness—education, science, and innovation.
Indeed, totally absent from the document are the words "education," "science," "research," or "technology" ("new technologies" is used once, but only to describe the use of computers and the Internet in the development of the Pledge itself). "Innovation" appears only once, in a section about government red tape, while "skill(s)," "training," "export," and "infrastructure" are all totally absent. Despite repeated calls for increased American "competitiveness," nowhere in the Pledge is "sustainable" or "long-term" growth mentioned.
HOW CAN YOU HAVE " A PLEDGE TO AMERICA'" ABOUT JOB AND ECONOMIC GROWTH WITHOUT ADDRESSING THE NEED TO NURTURE INNOVATIVE ENTREPRENEURS, AND ADDRESS THE CHALLENGES THAT FACE THEM INCLUDING THE ACCESS TO EARLY STAGE FUNDING???? WE HAVE RECOMMENDED TO THE ADMINISTRATION FOR THE LAST 2 YEARS THAT THEY BECOME PROACTIVE IN DOING 4 BASIC THINGS THAT WILL HELP STIMULATE THE ECONOMY IMMEDIATELY AND CREATE REAL JOBS AN A MUCH MORE REASONABLE COST PER JOB THAN THE STIMULUS FUND (See chart below for what has actually occurred in the States):
1) CREATE A NATIONAL EARLY STAGE JOB CREATING FUND OF FUNDS MANAGED BY EXPERIENCED EARLY STAGE INVESTORS
2) CREATE A NATIONAL ANGEL CAPITAL FEDERAL TAX CREDIT PROGRAM TO FREE UP MORE PRIVATE SECTOR EARLY STAGE JOB CREATING INVESTMENT.
3) MAKE PERMANENT THE R&D TAX CREDIT PROGRAM AND ADD A TRANSFERABILITY PROVISION SO THAT EARLY STAGE GROWTH COMPANIES WITHOUT TAX LIABILITIES CAN BENEFIT FROM THEM.
4) REAUTHORIZE THE SBIR PROGRAM AND MAKE IT PERMANENT....IT IS ONLY THE BEST MODEL IN THE WORLD!
THIS WOULD BE A REAL PLEDGE TO THE AMERICAN ENTREPRENEUR AND INNOVATION ECOSYSTEM WHICH HAS FUELED AMERICA'S GROWTH FOR THE LAST 50 YEARS..................RICH BENDIS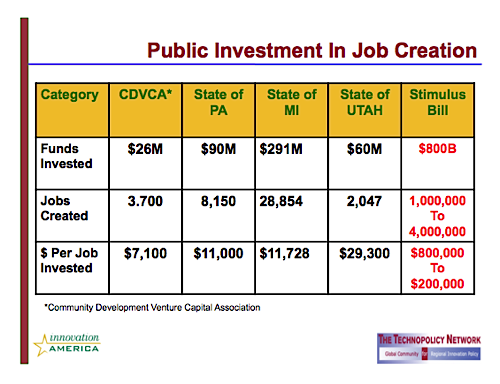 To read the full, original article click on this link: The Words Tell the Story

Author: Sean Pool