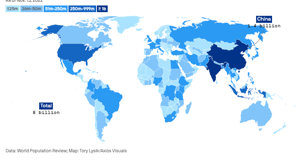 Eight billion humans are living on planet Earth — a huge milestone officially projected for and being recognized Tuesday by the U.N.
Why it matters: People are living longer, with generally better access to health care, food, clean water and sanitation than in past generations. A smaller share of humans live in extreme poverty.
There are still challenges — ongoing ramifications from the pandemic, a record number of forcibly displaced people and worsening climate change.
Image: https://www.axios.com