Creating a National Innovation Framework
Building a Public-Private Support System to Encourage Innovation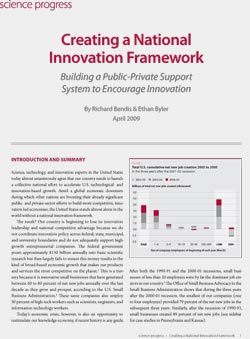 By Richard Bendis & Ethan Byler
April 2009
Introduction and Summary

Science, technology, and innovation experts in the United States today almost unanimously agree that our country needs to launch a collective national effort to accelerate U.S. technological- and innovation-based growth. Amid a global economic downturn during which other nations are boosting their already significant public- and private-sector efforts to build more competitive, innovation-led economies, the United States stands almost alone in the world without a national innovation framework.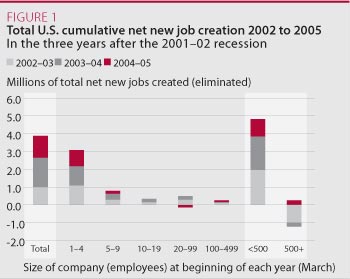 The result? Our country is beginning to lose its innovation leadership and national competitive advantage because we do not coordinate innovation policy across federal, state, municipal, and university boundaries and do not adequately support high-growth entrepreneurial companies. The federal government pours approximately $150 billion annually into basic scientific research but then largely fails to ensure this money results in the kind of broad-based economic growth that makes our products and services the most competitive on the planet.[1] This is a travesty because it is innovative small businesses that have generated between 60 to 80 percent of net new jobs annually over the last decade as they grow and prosper, according to the U.S. Small Business Administration.[2] These same companies also employ 30 percent of high-tech workers such as scientists, engineers, and information technology workers.
Tuesday, 28 October 2014 23:00
Tuesday, 28 October 2014 23:00
Wednesday, 05 November 2014 00:00
Tuesday, 28 October 2014 23:00
Tuesday, 28 October 2014 23:00
Read more...
Rich Bendis President, Innovation America spoke about how innovation will change small business.