innovation DAILY
Here we highlight selected innovation related articles from around the world on a daily basis. These articles related to innovation and funding for innovative companies, and best practices for innovation based economic development.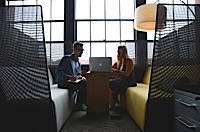 Experts are heralding the Internet of Things (IoT) computing phase as the next industrial revolution, estimating 50 billion connected devices and IoT solutions reaching $7.1 trillion by 2020.
While we won't refute these arguments, a focus on shareholder positioning will help us better understand where we are in the IoT cycle and how positioning IoT into a company's story just became that much more pressing.
Image: The Nest Protect smart smoke and carbon monoxide detector. Image Credit: Devindra Hardawar/VentureBeat
Receive our DAILY Free Updates
Monday, 07 July 2014 00:00
Friday, 11 July 2014 00:00
Saturday, 28 June 2014 00:00
Wednesday, 09 July 2014 00:00
Monday, 30 June 2014 00:00
Read more...