innovation DAILY
Here we highlight selected innovation related articles from around the world on a daily basis. These articles related to innovation and funding for innovative companies, and best practices for innovation based economic development.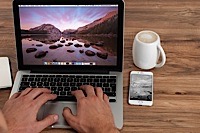 Entrepreneurs can emerge at any age. We have all heard stories of the children who started out with a lemonade stand and later blossomed into business builders. Recently, I ran across the proverbial lemonade stand story that led to an overnight success.
Meet Riley Kinnane-Petersen, a precocious, adorable six-year-old girl living in Atlanta, Georgia. She is in the process of building an amazing jewelry company. One of her fathers, John, makes beautiful one of a kind necklaces. As early as three years old, Riley was helping him find unique shiny objects for his wares at antique stores, flea markets and thrift stores. The vintage items are beautifully configured into works of art and he sells these necklaces under the company name of Gunner and Lux.
Receive our DAILY Free Updates
Monday, 02 November 2015 23:00
Thursday, 05 November 2015 23:00
Friday, 06 November 2015 23:00
Monday, 09 November 2015 23:00
Sunday, 08 November 2015 23:00
Read more...