innovation DAILY
Here we highlight selected innovation related articles from around the world on a daily basis. These articles related to innovation and funding for innovative companies, and best practices for innovation based economic development.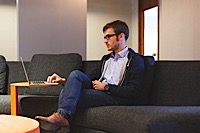 An Interview with Chris Laping, author of People Before Things
Recently I had an opportunity to interview Chris Laping, the former Chief Information Officer (CIO) for the Red Robin restaurant chain about some of the challenges in achieving successful organizational change. Chris' is a voice that emerged from the darkness as I was creating the Change Planning Toolkit™ and conducting the research for my latest book Charting Change (focused on helping people beat the 70% change failure rate).
Chris Laping is a kindred soul sitting at the intersection between people, process and technology and working to clear the resulting cloud of confusion that results. Unable to convince Chris to join the chorus of hand-picked guest expert voices in my book, I'm super happy to have the privilege of sharing this conversation with Chris Laping about his new book People Before Things to give you a glimpse of the inner workings of an experienced, talented, and insightful change leader mind.
Receive our DAILY Free Updates
Thursday, 07 April 2016 00:00
Monday, 04 April 2016 00:00
Friday, 08 April 2016 00:00
Friday, 22 April 2016 00:00
Wednesday, 06 April 2016 00:00
Read more...