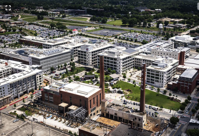 A symbolic passing of an economic-development baton took place last week.
Wake Forest University announced Thursday that it has removed its name from the Innovation Quarter it helped found about 25 years ago in downtown Winston-Salem.
Wake Forest School of Medicine governs the 1.2-million-square-foot innovation district under the auspices of the university. Both groups stress that the name change does not reduce their financial and infrastructure commitment.
Image: https://www.journalnow.com - Andrew Dye