innovation DAILY
Here we highlight selected innovation related articles from around the world on a daily basis. These articles related to innovation and funding for innovative companies, and best practices for innovation based economic development.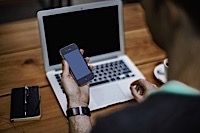 With every passing year, the line between technology news and the news becomes harder to distinguish. That's because technologies like smartphones, the internet and its phenomena — social media and ecommerce for example — has started to permeate our lives so readily and effortlessly, that concepts that seemed outrageous a few years ago now seem everyday. The democratisation of news? Meh. The death of TV. Likely.
Image Courtesy of Kittikun / FreeDigitalPhotos.net
Receive our DAILY Free Updates
Monday, 06 June 2016 00:00
Saturday, 04 June 2016 00:00
Tuesday, 07 June 2016 00:00
Friday, 03 June 2016 00:00
Friday, 17 June 2016 00:00
Read more...