innovation DAILY
Here we highlight selected innovation related articles from around the world on a daily basis. These articles related to innovation and funding for innovative companies, and best practices for innovation based economic development.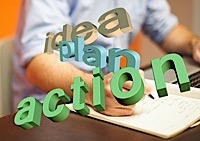 Imagine waking up each morning to a conundrum. You are a traveler making your way through a stark, unforgiving valley and you don't know the way out. There is the sky above you, steep mountains that surround you, and the earth beneath your feet.
You start each day trying to gauge your progress. There are clues left on the trails where other travelers have been, but the valley itself has shifted. The mountains lengthen, shorten, disappear, or appear every so often, just to keep it interesting. The path someone else took that let them out of the valley may no longer exist. The things you did last week that brought you closer to exiting may no longer work because that exit may no longer exist. There is precious little food or water and starvation is a real possibility—even a probability.
Receive our DAILY Free Updates
Thursday, 26 March 2015 00:00
Thursday, 26 March 2015 00:00
Friday, 03 April 2015 00:00
Wednesday, 01 April 2015 00:00
Monday, 23 March 2015 00:00
Read more...