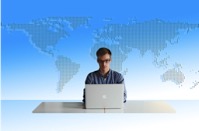 After two straight years of declining venture capital investment, 2010 saw an increase in deal flow compared with the previous year.

Venture funds collectively increased their investments by 19 percent over 2009 to $21.8 billion. The number of deals made grew by 12 percent to 3,277. Even though growth slowed in the last two quarters of the year, it was still the industry's first positive year-to-year growth since 2007.

"We were clearly in recovery mode," said Mark Heesen, president of the National Venture Capital Association in Washington, D.C. "We hope this continues in 2011."


The news came courtesy of the latest MoneyTree Report, produced by the NVCA and PricewaterhouseCoopers with data from Thomson Reuters.
To read the full, original article click on this link: Venture capital investment in 2010 grew for first time in three years - San Jose Mercury News
Author: This email address is being protected from spambots. You need JavaScript enabled to view it.