innovation DAILY
Here we highlight selected innovation related articles from around the world on a daily basis. These articles related to innovation and funding for innovative companies, and best practices for innovation based economic development.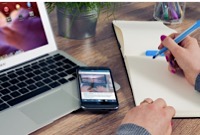 Business letters aren't a quaint thing of the past. Write them well, and you'll create a lot of goodwill with clients, partners, and vendors. You'll increase your profits, too — by getting key customers to renew large orders, for example, or persuading service providers to charge you less for repeat business.
Here are some pointers to help you get those kinds of results with your letters:
Focus on the reader. Motivate people to act by giving them reasons that matter to them. And try not to begin with the word I; make it you, if possible (You were so kind, You might be interested, and so on). Keep the reader in the forefront because — let's face it — that's what will hold her interest. Not: "I just thought I'd drop you a note to say that I really enjoyed my time as your guest last week." But instead: "What a wonderful host you were last week."
Receive our DAILY Free Updates
Tuesday, 09 June 2015 00:00
Tuesday, 16 June 2015 00:00
Thursday, 18 June 2015 00:00
Friday, 05 June 2015 00:00
Monday, 15 June 2015 00:00
Read more...