innovation DAILY
Here we highlight selected innovation related articles from around the world on a daily basis. These articles related to innovation and funding for innovative companies, and best practices for innovation based economic development.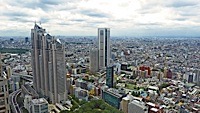 Anyone working on economic development of developing countries is bound to realize, sooner or later, that entrepreneurship does not get the recognition and support it deserves for its role in economic growth and poverty alleviation. In fact, it can also be argued that role of entrepreneurship in less advanced economies, like Nepal, is among the least studied subjects in the implied discourse. Yet, developing countries are teeming with entrepreneurs who are investing their time, energy, and skills in solving the problems that besiege their societies. Over 400 million individuals in developing countries are owners or managers of new firms. India and China alone are home to an estimated 200 million plus entrepreneurs. But despite the ubiquity of entrepreneurs in these societies, the problems and hurdles they face in starting, expanding, and sustaining their ventures are numerous and much different from the hurdles that are addressed in the majority of the literature on entrepreneurship available today.
Image Courtesy of SOMMAI / FreeDigitalPhotos.net
Receive our DAILY Free Updates
Thursday, 21 January 2016 23:00
Thursday, 21 January 2016 23:00
Sunday, 10 January 2016 23:00
Friday, 29 January 2016 23:00
Friday, 29 January 2016 23:00
Read more...