innovation DAILY
Here we highlight selected innovation related articles from around the world on a daily basis. These articles related to innovation and funding for innovative companies, and best practices for innovation based economic development.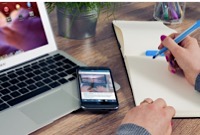 Until recently, the idea of holding a conversation with a computer seemed pure science fiction. If you asked a computer to "open the pod bay doors"—well, that was only in movies.
But things are changing, and quickly. A growing number of people now talk to their mobile smart phones, asking them to send e-mail and text messages, search for directions, or find information on the Web.
"We're at a transition point where voice and natural-language understanding are suddenly at the forefront," says Vlad Sejnoha, chief technology officer of Nuance Communications, a company based in Burlington, Massachusetts, that dominates the market for speech recognition with its Dragon software and other products. "I think speech recognition is really going to upend the current (computer) interface."
Receive our DAILY Free Updates
Thursday, 09 October 2014 00:00
Friday, 26 September 2014 00:00
Thursday, 09 October 2014 00:00
Monday, 13 October 2014 00:00
Saturday, 04 October 2014 00:00
Read more...